Czech Republic-April 2014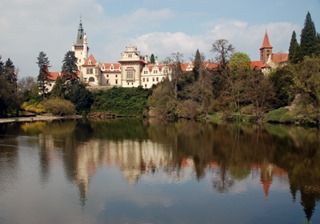 Pruhonice Gardens and Castle.
We went to the Czech Republic to visit family, bringing my sister Anna with for her first experience of Europe.
It was a wonderful visit!  We spent a few days in Prague, visited Cesky Krumlov, took a tour of the Budejovice beer factory (the original Budweiser beer, not to be confused with the inferior American version), and went to a bunch of smaller sites to give Anna a good flavor of the country with the time we had there. We also had the chance to visit a computer museum one of Roman's friends is opening which had an amazing and extensive collection of old equipment.
The Czech Republic is a wonderful place which is feeling more and more like a bit of home every time I visit!
| | | |
| --- | --- | --- |
| | | |
| Church of St. Nicholas. | Tea shop. | Roman and I. |
| | | | |
| --- | --- | --- | --- |
| | | | |
| Cesky Krumlov castle has a bear moat. Full of bears instead of water. | Bears were a common theme of this trip. | Pretty amazing wolf taxidermy. | More taxiderpy, a wildcat this time. |
| | | | |
| | | | |
| --- | --- | --- | --- |
| Old calculator from a shop museum. | The famous astronomical clock. | Very holy duck. | I think this is where the storks bringing babies story must originate. |
| | | | |
| --- | --- | --- | --- |
| | | | |
| Bottling line, Budvar factor. | Bottling line, Budvar factor. | Bottle jam! | Quite an impressive setup! |
| | | | |
| --- | --- | --- | --- |
| | | | |
| They could process around 40,000 botles in an hour! | Export beer label. | Old beer export label. | Hand pouring right from the tank. |
| | | | |
| --- | --- | --- | --- |
| | | | |
| I have to admit, the smell was pretty incredible. | More views from the bottling plant. | Trains to transport beer. | This is probably the only picture you'll ever see of me drinking beer. |
| | | | |
| --- | --- | --- | --- |
| | | | |
| One more, please! | Cool random goat sculpture in an old building. | Anna, myself, and Roman in Krumlov. | Nice antlers! |
| | | | |
| --- | --- | --- | --- |
| | | | |
| Skull detailing in St. Nicholas' church. | Pigeon tears. | Behold! | Coat of arms. |
| | | | |
| --- | --- | --- | --- |
| | | | |
| Traditional wood-fired pottery kiln. | Tea shop. | Mold forms at a pottery studio. | Old, old chainsaw! |
| | | | |
| --- | --- | --- | --- |
| | | | |
| Just an old, bizzare keyboard. What is the ET key supposed to do? Call home? | Minsk Forever! Anna poses with a component of an old Russian computer. | IQ-151, Czech 8-bit computer that Roman was starting on. | IQ-151 keyboard |
| | | | |
| --- | --- | --- | --- |
| | | | |
| Memory module, still made of off-the shelf components. | PMD-85, another old Czech computer. | Integrated screen and floppy drives! How convenient! How portable! | Sharp MZ-821, Roman's first computer. |
| | | | |
| --- | --- | --- | --- |
| | | | |
| The tape has an operating system punched on it, ready for loading. | Do not try to take this suitcaise with you when flying. Z80 trainer. | | |