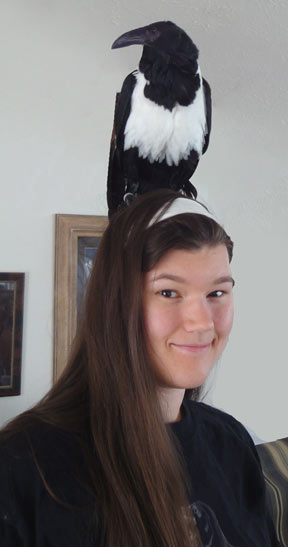 My name is Foxfeather (yes, that is my actual name), and I live in Minnesota. The cold extremes of the weather here; the deep, dense forests, shining water, and wild places make me proud to call this state my home.
I have an enduring love of all things feathered, furred, and scaled. I feel a particularly strong connection to birds of all kinds (especially vultures, corvids, and owls). As a licensed wildlife rehabilitator and conservation educator, animals are a huge part of my life; I hope to help share this connection, respect, and awe through my artwork. My art business, Foxloft Studios, fully supports my volunteer work helping creatures in need. If you would like to learn more about the conservation branch of Foxloft, please visit: Foxloft Conservancy.
I am also the caretaker of ninety-eight acres of property where I am pursuing my dream of creating a sustainable grass-based farm and restoring the native prairie. Besides being a full-time artist and wildlife rehabilitator, I'm a falconer, beekeeper, yak farmer, and scuba diver. I have a strong love for life and learning. There's such an incredible world of things out there to see, do, and experience! I am constantly finding new sources of inspiration everywhere.
I attended the University of Minnesota - Twin Cities, studying Biology, Studio Arts, and Native American studies. I share my home and dreams with my wonderful husband, Roman, and our small menagerie of critters.
Thank you for taking the time to read about me and check out my website! I hope you enjoy your stay!
-Foxfeather Zenkova
P.S. A lot of people ask about my name, it is cultural (I am Sámi) and was also later gifted to me again by the local Ojibwe community; Waagosh-iwi-migwaan, or 'the Fox's feather'. There are longer stories there, but it ties me to my roots and my purpose, and I feel honored to carry it. Most people just call me Fox.
Download any of these banners and use them to link to foxloft.com!
My favorite sites