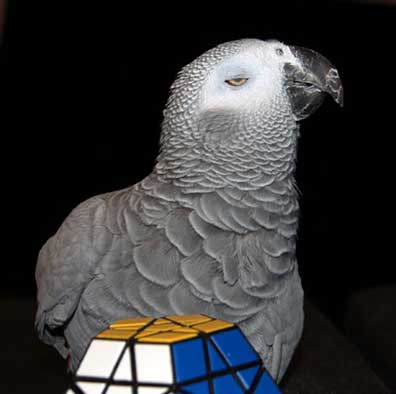 Vegas is an african grey parrot (Psittacus erithacus), of the Congo variety/subspecies. Her name comes from 'being lucky to be alive' as an accident with her parents just after hatching left her permanently disabled. Her feet are crippled, her spine was twisted, and her growth stunted - but none of that takes away from her pleasant attitude and zest for life. She is an older parrot, in her late teens, and joined our flock at the end of 2009.
Vegas is about as perfect a parrot as you could ever meet - she is calm, gentle, and endlessly entertaining and interactive. She has a large vocabulary and great grasp of the concepts behind many words - associating the word with an actual item or idea. A lot of this was not 'trained', she is just very clever at picking up associations herself - a very inquisitive and observant bird.
African greys are known for their extreme intelligence and longevity, often having vocabularies of of hundreds of words and a potential lifespan of over 50-70 years. African greys require a strong commitment from their keepers - moreso than even many other demanding parrot species. Their unique intelligence and sensitivity requires constant interaction, variety, and enrichment. Their mental capabilities have been compared to that of dolphins, chimpanzees, and even human children. Living with one of these amazing birds, I can attest to their creative use of language and even abstract concepts - there isn't a day Vegas doesn't amaze me and make me smile.
Vegas's Photo Gallery
If you're interested in learning more about african greys, or keeping parrots in general, here are some books I recommend: