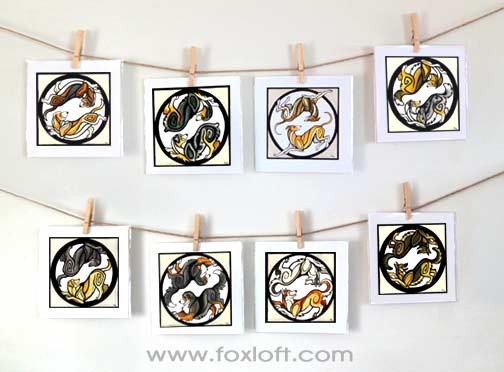 What is a giclee print?
Giclee printing is a cutting edge printing technology which utilizes archival inks sprayed onto a medium, producing a top quality print without visible 'dots' or pixels. This process rivals handmade printing technologies (lithographs, gelatin prints, etc.) and is used for many museum reproductions and where quality is of utmost importance.
Our giclee prints are produced using a 12 ink system for the most accurate color matching available. The quality of these prints is stunning and vibrant. Only archival papers are used, ensuring the longevity of your print.
What is the difference between a standard print and a giclee print?
Our standard prints are done by color laser or inkjet on a pH balanced paper - good quality at economy prices. The giclee print option is for highest quality and optimal color matching, but it comes at a price as the inks and materials are much more expensive to utilize.
Is my print going to have a watermark/text on it?
Watermarks (text, generally saying 'www.foxloft.com') on the prints is for web protection and will NOT be printed on your purchased print.
How are prints packed?
Prints are put in protective, attractive plastic sleeves (perfect and ready for gift giving!). Small prints are sandwiched with sturdy cardboard/hardboard to protect them during the shipping process. Larger prints may be gently rolled and shipped in a tube for maximum protection.
Will you sign your prints?
Certainly! Non-limited-edition prints are not signed by default, but I would be happy to sign them if you make a request. Just put 'please sign' in the notes during checkout or send me an email along with your order.
Limited editions and originals are always signed.
What is an original?
An original is the 'original', actual artwork for a given piece. Since I generally work in 'real media' or 'traditional media' (non-digital), my originals are generally paintings (information will be given as to what type - watercolor, acrylic, mixed media, etc.)
Original artwork is one of a kind. There are often prints made of a given piece, but the original painting is wholly unique.