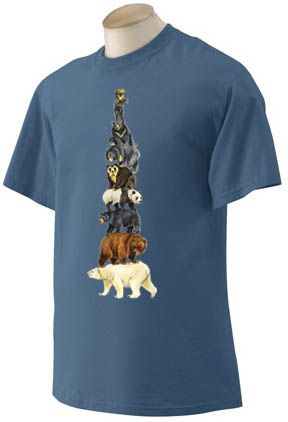 $
25

- Bear Stack

A totem pole of bears featuring all 8 species in the family Ursidae - from top to bottom: Sun Bear, Sloth Bear, Asiatic Black Bear, Spectacled Bear, Giant Panda, Black Bear, Brown Bear (Grizzly), and Polar Bear. There was a lot of debate whether the Giant Panda was a 'bear' or not, but the most current evidence shows them to be an ancient offshoot of the line and gives them a place in this family.
Information about shirts
Our t-shirts are 100% cotton*, pre-shrunk, ultra-heavyweight. We only use the highest quality t-shirts available to ensure longevity and comfortable wear. They are unisex shirts.
Shirts are printed with plastisol screenprinting inks, with vibrant colors and great washability. We do recommend washing the shirts inside out (as with any printed shirt) - this will greatly lengthen the lifespan of the image. We do not recommend ironing directly on the design.
Long-sleeve shirts and hoodies are generally a mix of 50/50 cotton/polyester.
Other colors, sizes (up to 10x), women's styles and other clothing items may be ordered, contact us for a price quote on whatever you are interested in, we can probably find it!
The images shown on the website are generally on a medium sized shirt - the image may appear smaller or larger than shown on a shirt of different size.
If you have any other questions please do not hesitate to contact us and ask!
For shirt sizing information and care details, please click here.
*Except for sport grey which is 90% cotton 10% poly and ash grey which is 99% cotton 1% poly.