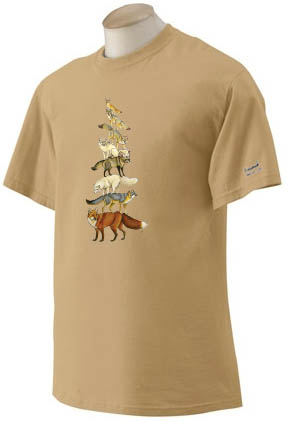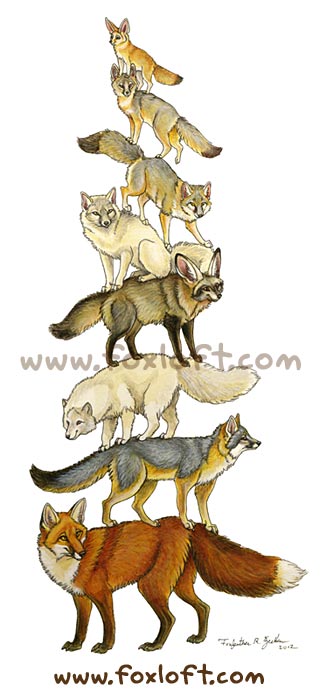 $
25

- Fox Stack

It's a fox stack! From top to bottom: fennec fox, kit fox, swift fox, corsac fox, bat-eared fox, arctic fox, grey fox, and red fox. Did you know there are technically 27 different canines considered to be 'foxes'? These are a few of the more well known of the group!
Information about shirts
Our t-shirts are 100% cotton*, pre-shrunk, ultra-heavyweight. We only use the highest quality t-shirts available to ensure longevity and comfortable wear. They are unisex shirts.
Shirts are printed with plastisol screenprinting inks, with vibrant colors and great washability. We do recommend washing the shirts inside out (as with any printed shirt) - this will greatly lengthen the lifespan of the image. We do not recommend ironing directly on the design.
Long-sleeve shirts and hoodies are generally a mix of 50/50 cotton/polyester.
Other colors, sizes (up to 10x), women's styles and other clothing items may be ordered, contact us for a price quote on whatever you are interested in, we can probably find it!
The images shown on the website are generally on a medium sized shirt - the image may appear smaller or larger than shown on a shirt of different size.
If you have any other questions please do not hesitate to contact us and ask!
For shirt sizing information and care details, please click here.
*Except for sport grey which is 90% cotton 10% poly and ash grey which is 99% cotton 1% poly.