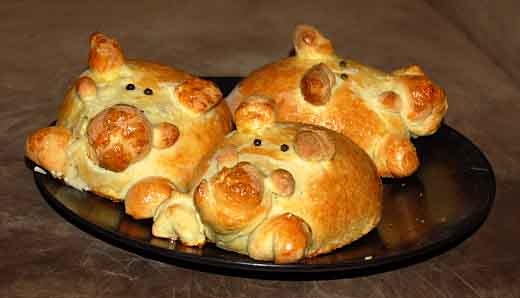 Pig Pirozhki
Based off a Russian recipe.
These little porkers are guaranteed to entertain!

Ingredients
For Dough:
4 Cups Flour
1 tsp. sugar
1 tsp. salt
2 tsp. dried yeast
2 eggs (beaten)
3/4 cup warm milk
4 Tbp. softened butter


1 egg white (for glazing)

For Filling:
1 cup cubed cooked ham (leftover spiral ham works wonderfully)
1 can artichoke hearts
1 tbsp. garlic (diced)
1 tbsp. olive oil
Italian herbs to taste (oregano, etc.)
Dash of salt and pepper
1 cup favorite white cheeses (parmesan, asiago, fontina, etc. work well)
Directions
Make the dough:
Mix flour, sugar and salt in a large bowl. Make a well in the middle, add yeast and warm milk, stir. Add softened butter and eggs. Mix until smooth, let rest for 1 hour in a warm (but not hot) place. On top of an oven set to warm (under 200 degrees) works well.
Make the filling:
Heat olive oil in a skillet, add garlic and herbs. Stir well, do not let garlic brown/burn. Cook for a minute or two, add diced artichokes (well drained) and ham. Salt and pepper to taste. Cook until ham is slightly browned. Add cheese last, heat and stir until cheese is melted. Remove from heat.
Finishing:
Cover board and hands with dusting of flour. Seperate dough into 6 different balls, then break off 1/4 of each ball (for ears/nose/etc) and set aside (so you end up with 6 large and 6 small balls of dough). Keep dough balls covered in a bowl with moistened cloth over it until using them so they don't dry out (they dry out quickly).
Scramble egg white in small bowl, keep near work station (easiest to use with a basting brush for application).
Heat oven to 350 degrees F.
Form large dough ball into flat circle (like you would for a pizza) about 1/4" thick. Place 1/6 of filling mixture onto the middle, wrap sides of dough around to form a ball completely around the filling, making a seam only on the bottom side. Use a light brushing of the egg white to seal. Flip seam-down and place on well greased baking pan. Form small ball of dough into snout, tusks, ears, and hooves, attach with egg white. Use whole black peppers pressed into dough for eyes. Glaze finished pig lightly with egg white mixture.
Repeat for each of the pigs, bake for 10-20 minutes (check at 10 minutes then every 5) or until golden brown. Check often so the ears don't crisp too much!
Enjoy!