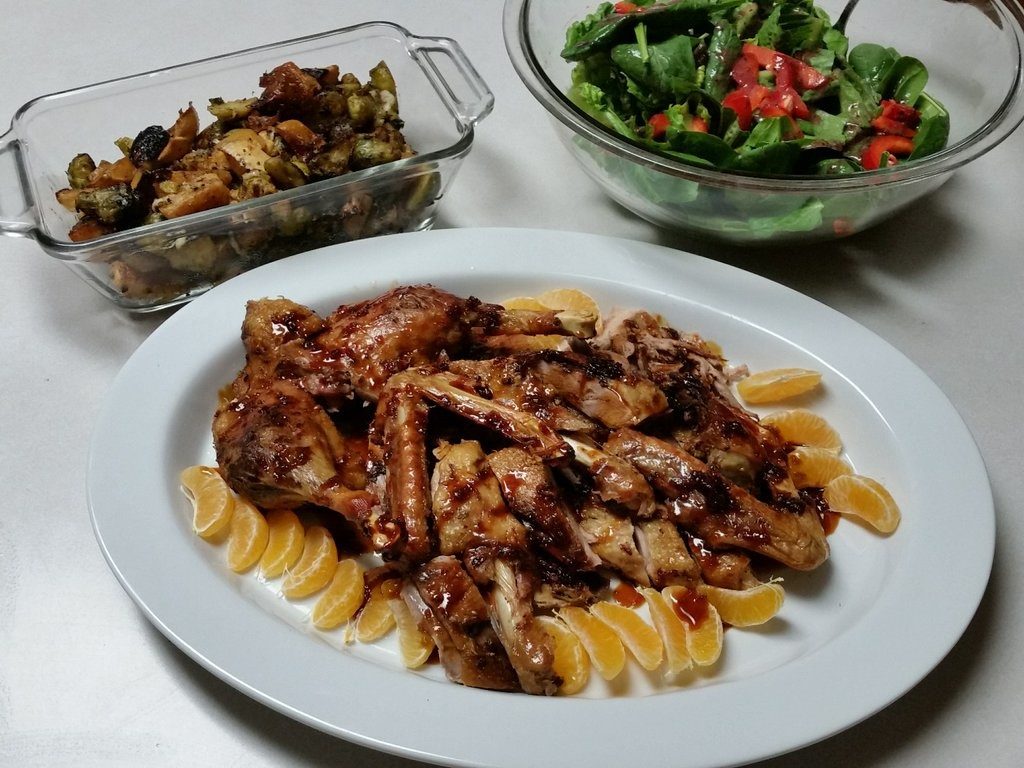 Ginger-Orange Slow Roast Duck
On my journey to make the perfect roast duck, this is the top contender and favorite recipe!
Long and slow roasting make for a very tender bird, and a high heat finish crisps the skin nicely.
A strong orange-ginger sauce round out the flavors and really make it pop!
Ingredients
1 duck, 4-5 lbs salt




1 tbsp Chinese 5 spice powder (buy at Asian market or make your own by grinding together cinnamon, coriander, bay leaves, star anise, and allspice)




1 orange, zested + wedges




1-inch piece grated fresh ginger




5 cloves pressed gresh garlic

For Sauce:

Juice from one orange
1/4 cup honey
Tamari soy sauce (to taste, about 1/8 cup)
fresh shredded ginger
1/4 cup triple sec (or orange liqueur)
Directions
Rinse/thoroughly dry duck, prick all over skin with tip of sharp blade. Cut only skin, do not pierce meat. This is to let the fat escape while cooking, keeps the meat from getting greasy.
Mix salt, spices, zest, ginger, and garlic together, season interior cavity of duck (rub some between skin and meat if you want a stronger flavor.
Place duck on V-shaped rack over roasting pan, breast side up, leave in fridge for at least 4 hours, up to overnight (cover lightly with saran wrap if you feel it is drying out too much)
Bring duck to room temp before cooking. Add root veggies to bottom of pan if desired (parsnips, celery root, rutabaga work fantastic for this).
Heat oven to 200 degrees. Cook duck for 4 hours, rotating from breast up to back up hourly. Cooking time will vary with size of the duck – a 3.5lb duck will take about 3 hours, a 6 lb duck will take closer to 5
Pour off excess fat from bottom of roasting pan each time you rotate the duck. Add soft veggies like brussel sprouts to pan bottom in the last hour if desired.
Turn duck breast side up, heat oven to 500 degrees. Roast 15-25 minutes until skin is crisp. Keep a close eye on this part, fat will smoke and can easily burn if left too long. Breast meat can get overcooked quickly at such high temperatures, so be watchful and conservative
To make glaze/sauce: Mix ingredients in saucepan, bring to a low simmer. Reduce until a light syrup consistency. Serve meat with a light drizzle of sauce.
Enjoy!